Our story begins in the fall of 1995. We met at Ashland University in mid-September. The exact date — well we're not sure the exact place and time where we met. It could have been in the Amstutz Hall lounge, after mass in the Newman Center. We just don't remember. Since we're both Catholic, let's just go with the idea we met at Mass.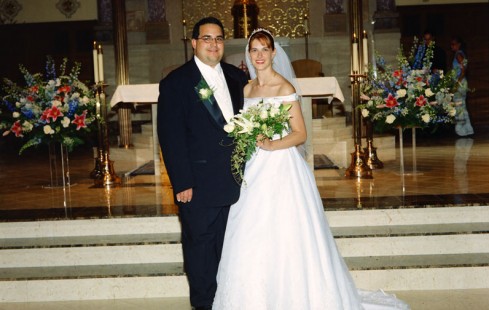 We got to know each other during the 1995 Indians run for the pennant. The lobby of our residence hall was baseball central during the playoffs. We had everything from "box to bleacher seating" – and rigged up the radio play-by-play.
It wasn't until February 1996, until we officially started going out. In 1997, after taking a semester off for different reasons, we both transferred to Mansfield University of Pennsylvania. The school was nestled in the northern mountains of Pennsylvania — in fact, we were closer to Elmira, NY than any city in PA.
We graduated in December 1999, Jason was hired to work at WNWO-TV in Toledo, Ohio. Sandy soon followed to work across the street at WUPW-TV.
We got engaged on April 29, 2001, in Niagara Falls Canada and were married in Parma, Ohio on June 29, 2002, at St. Charles Borromeo Catholic Church.
We lived in Toledo, Ohio until August 2004 when we moved to Corpus Christi, Texas so Jason could take on a new role as their website manager. Jason quickly made KRISTV.com one of the leading websites in Texas. He won several awards from the Texas Associated Press Broadcasters and a Regional Edward R. Murrow award for his work creating a digital hurricane plan.
In October 2007, we moved back to the Midwest and a bigger TV market. Jason took on the role of Digital Director at WISHTV.com. We first lived in Noblesville, Indiana, for two years before we purchased our first home in Lawrence, Indiana in September 2009. By this time, Sandy was working for WellPoint/Anthem as a claims processor.
Just a couple months later, in December, we welcomed our first child, David, into our lives. Katharine came along three years later. Katie's arrival was part of a year of major change for the Crundwells as Jason ended his career in broadcasting at the end of 2012 to start his digital marketing and web design company, Crundwell Digital Marketing.
From February 2003 until February 2014 a Miniature Schnauzer named Casey was also part of our lives. We adopted him from the Lucas County Dog Pound after his previous owner had passed away. He was a great companion and unfortunately, he lost a battle to Vestibular Disease, and we had to put him down.
In late 2014, our family expanded once again with the birth of our third child Alexander Joseph, and in 2015, our life journey took another turn when we moved back to Mansfield so that Jason could start a new full-time opportunity at St. Peter's Parish & School as their Director of Development.
Since then, we've made Mansfield our home, moving into a beautiful home in the heart of Woodland.